by the way the wind whirls
the laundry, the sun glints  
on spiders' spinnings,
 
by the way I knit and purl
new mittens, humming along
with crickets' autumnal drawl…
 
I, too, need the rest this season
metes—time to glisten, whispering
my days' stitches toward spring


© by Nancy K. Jentsch.
Used with the author's permission.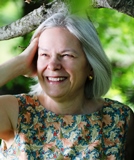 Nancy K. Jentsch calls herself "a second-career poet," having taught German and Spanish at Northern Kentucky University until 2020. She claims to now be "walking through life looking for just the right words, enjoying the thrill of the hunt and the mystery of the power of language." Nancy's newest collection, Between the Rows, was released in 2022. Her work has appeared in various online and print journals and in several anthologies. Nancy says one of the best compliments she ever received was a friend's comment about one of her poems: "I don't like poetry, but I like this." Learn more about Nancy, who lives in Camp Springs, Kentucky, at https://jentsch8.wixsite.com/my-site.  
Anastasia:
Great images, and bonus points for the use of the word "metes"it far too often is limited to the context of justice, and it's good to see it in other uses.
Posted 10/22/2023 10:57 PM
Wilda Morris:
Lovely images!
Posted 10/19/2023 09:05 AM
jamvan:
Gorgeous poetry. But - bypassing Winter? I look forward to hearing your musings on that rather neglected month :)
Posted 10/18/2023 09:54 PM
Adriana:
Beautiful. Agree with Sharon. Perfect sounds, subtle crafting (nine words with short "i"), then the pace slowed to match the meaning in the last verse (with long "e" words "need," "season" "metes"). Love the word pairs "wind whirls," "spiders' spinning" and the hints of internal rhyming throughout, especially ("mittens/crickets, humming along/autumnal drawl, glisten/ whispering"). A real pleasure to read. Glad it changed someone's mind about poetry. I'm sure it will change many more.
Posted 10/17/2023 10:21 PM
Jancan:
Very lovely and appealingly descriptive
Posted 10/17/2023 09:03 PM
Lori Levy:
Beautiful. I agree with what Sharon said.
Posted 10/17/2023 04:13 PM
Sharon Waller Knutson:
I love the alliteration weaving words into unique imagery. I can feel the wind whirling, see the spiders spinning and hear the humming along with crickets.
Posted 10/17/2023 12:11 PM
Leslie Hodge:
Beautiful - "spiders' spinning," "time to glisten" and so many more wonderful phrases and images.
Posted 10/17/2023 10:48 AM
KevinArnold:
The last stanza reminds me that lyric poetry doesnt require the kind of logic thats provable in court.
Posted 10/17/2023 10:07 AM
Larry Schug:
I enjoy the way this poem weaves together human and natural activity in the turning of seasons.
Posted 10/17/2023 08:18 AM
Angela Hoffman:
lovely
Posted 10/17/2023 08:13 AM