In the other gardens
   And all up in the vale,
From the autumn bonfires
   See the smoke trail!

Pleasant summer over,
   And all the summer flowers,
The red fire blazes,
   The grey smoke towers.

Sing a song of seasons!
   Something bright in all!
Flowers in the summer,
   Fires in the fall!


This poem is in the public domain.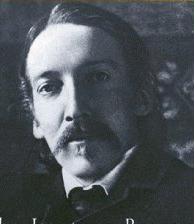 Scottish writer Robert Louis Stevenson (1850-1894) is, for many of us, the first poet to whom we were introduced, through his wonderful book, A Child's Garden of Verses. Though he came from a family of engineers and it was expected he would follow suit, Robert wrote stories even as a child; no one was really surprised when, three years into his engineering studies at the University of Edinburgh, he abandoned them to study writing. Always an avid traveller, despite lifelong poor health, Robert spent much of his life looking for a place to live that offered some respite from his illnesses. A prolific writer of poetry, fiction (Kidnapped, Treasure Island, and The Strange Case of Dr. Jekyll and Mr. Hide are his best known), travelogues, and political essays, he is properly revered today as a major literary figure, although in the early twentieth century, he was temporarily dismissed and disdained as "a children's author." Ultimately, Robert ending up living in Samoa, happy and productive until a stroke abruptly ended his life at the age of 44.
Wilda Morris:
Back when we didn't know it was bad to burn leaves!
Posted 10/19/2023 08:13 AM
Jancan:
Lovely choice for the day!
Posted 10/18/2023 08:53 PM
CamilleBalla:
The last stanza is a nice poem by itself.
Posted 10/18/2023 12:08 PM
KevinArnold:
Ah, rhyming couplets in quatrains . . . what would English poetry be without them?
Posted 10/18/2023 11:25 AM
cork:
I can smell the burning leaves.
Posted 10/18/2023 09:43 AM
liz dolan:
Yes, simple and no posturing.
Posted 10/18/2023 08:52 AM
Larry Schug:
So simple, so perfect.
Posted 10/18/2023 08:26 AM
Joan Luther:
Even though poetry today can be criticized for rhyming, theres something magical about that pulls my heartstrings to read works like this. Thx for sharing, Jayne!
Posted 10/18/2023 06:04 AM