The sand-man he's a jolly old fellow,
His face is kind and his voice is mellow,
But he makes your eyelids as heavy as lead,
And then you got to go off to bed;
I don't think I like the sand-man.

But I've been playing this livelong day;
It does make a fellow so tired to play!
Oh, my, I'm a-yawning right here before ma,
I'm the sleepiest fellow that ever you saw.
I think I do like the sand-man.


This poem is in the public domain.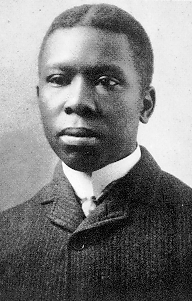 Paul Laurence Dunbar (1872-1906) was from Ohio. He wrote his first poem at the age of six, was editor of his high school newspaper, and published his first book at twenty. His writing attracted attention from the very beginning, and Paul became well-known in both America and around the world. Like James Whitcomb Riley, who was a fan of his young contemporary's work, Paul wrote many of his poems in dialect. Besides a dozen books of poetry, Paul wrote four short story collections, five novels, a play, and the first Broadway musical ever written and performed by African-Americans. A tremendously successful poet whose work was being published in all the major literary publications of his day, Paul's life was cut tragically short by tuberculosis.
Anastasia:
The Sandman has been a guest all weekend at our house as we sleep off our jetlag!
Posted 10/22/2023 10:54 PM
CamilleBalla:
What a nice and poetic reminder of the sandman. It has been a very long time I heard about him.
Posted 10/19/2023 12:06 PM
KevinArnold:
Another good find, Jayne.
Posted 10/19/2023 11:12 AM
Kelly Scott:
What can I say? To wake up to a poem that starts your day with a smile? It is cute as a button!
Posted 10/19/2023 10:00 AM
David:
Fun and relatable!
Posted 10/19/2023 09:52 AM
cork:
Bring me a dream!
Posted 10/19/2023 09:35 AM
Michael:
Love Dunbar's lilting cadences--the musicality of his poems. We lost him way too early, but even so, what a prodigious output of work!
Posted 10/19/2023 09:13 AM
Larry Schug:
Thanks for frequently including Dunbar on YDP. Without you, I doubt that I'd ever have discovered him.
Posted 10/19/2023 08:51 AM
Jane H Fitzgerald:
Very interesting. I never knew about this author. Thank you for sharing.
Posted 10/19/2023 08:21 AM
Wilda Morris:
Delightful!
Posted 10/19/2023 08:11 AM
Darrell Arnold:
Clever and well written. Parents are always trying to get their small children to nap, but they've got a bold new world to explore, and they fight it. Until, at last, they wear out all at once. Go,go, go, go, go, sleep. It always makes me chuckle.
Posted 10/19/2023 08:11 AM