High in the saddle,
gently jolted
           back and forth,
my legs pressed
against the warm solid curve
of flexing muscled haunches,
one hand wrapped
in the soft loop of well-fingered reins,
the other holding
the leather-smooth horn,
up and down,
             forward I ride    
to the clop-clatter and heavy thud
of hooves
on pine needle padding and coarsely crushed rock,
past ghostly patches of faded ferns,
their crisp brown edges curled,  
past fields with crisp beige stalks
of leftover corn,
and through autumnal tunnels
of plants and trees,
burnt orange, evergreen,
crimson, gold, peach.
As I breathe in
the smoky sap-scented air,
                       leaves unhinge,
                             then spin
            while drifting towards earth,
  in the prescience
         of a rustling cool breeze.


© by Joan Kantor.
Used here with the author's permission.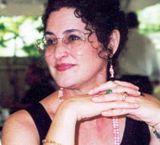 Joan Kantor lives with her husband in Collinsville, Connecticut.  A college counselor and learning disabilities specialist for many years, Joan also has training in education and marriage and family therapy. Active in a number of poetry outreach efforts, she is a member of the International Academy for Poetry Therapy and collaborates with both visual artists and musicians in Stringing Words Together, an interactive program of poetry and violin music. Her most recent book is Filling in the Black: One Woman's Journey of Re-education (WovenWord Press).
Anastasia:
A nice, rhythmic ride on a lovely autumn day!
Posted 10/22/2023 10:54 PM
jamvan:
lovely imagery. 'Autumnal tunnels' challenges the tongue!
Posted 10/21/2023 02:54 AM
Lori Levy:
This ride has a calming affect on me.
Posted 10/20/2023 05:15 PM
Wilda Morris:
Lovely image. I'd like to join you on the ride!
Posted 10/20/2023 12:41 PM
Adriana:
Lovely last seven lines could be a poem by themselves. Do you mean prescience or presence?
Posted 10/20/2023 11:03 AM
Sharon Waller Knutson:
This poem plays like a visual video of a rider on a horse cantering past fern, fields of corn and evergreens. I can hear the "clop-clatter and heavy thud of hooves on pine needle padding and coarsely crushed rock," and breathe the the smoky sap-scented air."
Posted 10/20/2023 10:03 AM
David:
Excellent descriptions and selection of details. Really conveys the experience.
Posted 10/20/2023 09:40 AM
Michael:
Like the combination of typography and words . . . horse, rider and reader together. Nicely done Joan.
Posted 10/20/2023 09:11 AM
Darrell Arnold:
Cantering with Kantor.
Posted 10/20/2023 08:37 AM
Larry Schug:
Puts me right in the saddle and in the middle of a beautiful place.
Posted 10/20/2023 08:14 AM