Pumpkins as decorations.
KitKats and face paint stations.
Preachers reading verse citations.
Children filled with jubilation.
Guess-the-weight games and conversation.
My tired smileís elevation.
My wife and her fall illumination.
What a lovely weekend celebration.


© by Caleb Delos-Santos.
Used here with the authorís permission.
†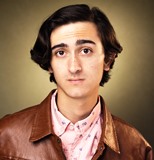 Caleb Delos-Santos is an English graduate student at Southern Illinois University Edwardsville. Throughout his four years of writing, he has published poetry with more than twenty literary magazines and recently released his first two poetry collections, A Poetís Perspective (2022) and Once One Discovers Love (2023). Caleb also won the 2022 Esselstrom Writing Prize and the West Wind Literary Magazineís 2023 Best in Genre Award for his nonfiction. Currently, he is a teaching assistant and dreams of a successful writing and teaching career in the future.
Anastasia:
A wonderful dayI felt I was right there! Thank you, Caleb!
Posted 10/22/2023 10:32 PM
Lori Levy:
Captures the atmosphere in the park.
Posted 10/21/2023 04:18 PM
MLove:
I love this! What a great description of a wonderful October day! Thank you!!
Posted 10/21/2023 02:04 PM
KevinArnold:
. . . To rhyme .. .
Posted 10/21/2023 11:30 AM
Michael:
A well-deserved "ovation" to a promising young poet . . . nicely done Caleb.
Posted 10/21/2023 09:55 AM
Darrell Arnold:
Ha-ha. The "ation" rhyme ending is fun to play with. I've done it to excess. I enjoy Caleb's swing at it.
Posted 10/21/2023 09:13 AM
Wilda Morris:
Short and sweet!
Posted 10/21/2023 08:28 AM
mail@schoolbusmart.com:
Nice. Randy Mazie.
Posted 10/21/2023 07:55 AM