Red, orange, yellow, brown…
Like a rain of colors from the branches above.
As if God himself had made the earth his canvas,
the trees his brushes,
dipping each and every one of them
in the pail of autumnal paint
to cover the ground with crisp hues.
The leaves are shards of stained glass,
shattered from the shock wave of the new season
crashing down to end the previous.
It is impossible to stroll through
these fallen works of art and not make a sound.
A wonderful sound to hear,
as you step into the tinged foliage,
creating the impeccable 'crunch'
coming from beneath your feet.
Look; see if you can find one mistake
in the remarkable landscape before you.
It is all so flawless and perfect.


© by John Lawrence Ferrer
Used here with the author's permission.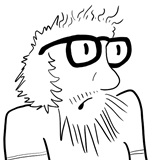 John Lawrence Ferrer lives in Greenville, South Carolina. Creative from his earliest days, he has been a writer, filmmaker, percussionist, comedian, artist, and ice cream truck driver. A computer programmer by day, his true passions are movies, music, and classic comic books.
Judy:
Dante said, "Nature is God's art work," and John Lawrence Ferrer wrote "Fall."
Posted 10/30/2023 11:16 AM
KateTompkins:
That makes up for the walk I didn't have time to take yesterday. You make me see and hear it as if I was there.
Posted 10/30/2023 11:01 AM
Jo:
What an absolute delight to see the many sides of John. The sight and sounds, the images. what a talented man you are.
Posted 10/30/2023 12:50 AM
jamvan:
a sight and sound delight. Transporting!
Posted 10/30/2023 12:32 AM
Anastasia:
A wonderful word picture! And thank you, John, for keeping the website working!
Posted 10/29/2023 08:35 PM
bobbi43sml@aol.com:
Just stunning , those trees as brushes and those words so artfully chosen. Have the add my "likewise " to Wilda's and Kevin's acorn observation. A masterful work .
Posted 10/29/2023 07:14 PM
ghctenmile@earthlink.net:
Bravo. And thanks for all you and your mom do to keep YDP out there for us
Posted 10/29/2023 06:14 PM
KinVT:
Wonderful!
Posted 10/29/2023 04:09 PM
Lori Levy:
Love "fallen works of art." So many unique lines.
Posted 10/29/2023 03:29 PM
Jancan:
Vividly descriptive and delightful
Posted 10/29/2023 02:48 PM
cork:
This poem is flawless and perfect.
Posted 10/29/2023 01:09 PM
peninsulapoet:
Lovely
Posted 10/29/2023 01:00 PM
Arlene Gay Levine:
John, this is a wise poem that engages our senses and our souls. My favorite line: "As if God himself had made the world his canvas"...
Posted 10/29/2023 12:31 PM
NormaB:
I love the pail of autumnal paint. So original!
Posted 10/29/2023 11:55 AM
KevinArnold:
Ah, this is no 'child's poem.' "It is impossible to stroll through these fallen works of art and not make a sound;" and even the word autumnal show a fully-grown artistry. And I have to second Wilda's comment.
Posted 10/29/2023 11:19 AM
CamilleBalla:
A wonderful sound to hear as you step into the fall foliage. I love that sound. Makes me feel like one with autumn. Nice poem.
Posted 10/29/2023 11:10 AM
Darrell Arnold:
The autumn leaves are like a lovely going-away present. God gave us a fruitful spring and a lovely summer, but he now has to let all growing things rest, and winter is the time for that. So he blesses us with all of that fabulous fall color, before our world turns gray and white during there resting cycle.
Posted 10/29/2023 10:58 AM
David:
Thoughtful with excellent imagery. Mainly lines (such as Fallen works of art) to enjoy.
Posted 10/29/2023 10:26 AM
Larry Schug:
Autumn leaves- even prettier on the ground.
Posted 10/29/2023 08:21 AM
Wilda Morris:
Wonderful poem. The acorn fell close to the tree!
Posted 10/29/2023 08:15 AM
JanetRuth:
So much to tease and please the senses in this gem! simply wonderful.
Posted 10/29/2023 07:59 AM
Joan Luther:
Fallen works of art.wondrous words
Posted 10/29/2023 07:04 AM
Jonah:
Another great example of a "word picture". I felt like I was there!
Posted 10/29/2023 06:16 AM