When you're Seventy-Five,
any given day you can die.
Any moment your last gasp
to be alive may arrive...unlucky you.
DOA in a splat down at the corner
or with a smile in some strange bed.
Tons of that lousy stuff can happen
even worse out back in the wood shed.
 
In any case, after some
long ponderous thoughts
while in a Zorba frame of mind
ignoring my waning bucket of time,
I have decided on the question at hand
asked of me just today by my local
Triumph motorcycle salesman.
 
I want my brand new Triumph Speed 400
motorcycle not to be the Phantom Black,
but rather, I want it to be the Carnival Red.
So once again I can ride those old windy
and narrow back roads around Uvas Dam
and proudly brag to my old biker buddies
how I can still cheat death again.


From Glassy Air: Poems Kindled in the Long Shadow of a Lone Motorcycle (BookLocker, 2018)
Used here with permission.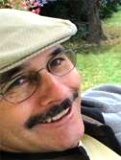 Edward Ferri, Jr. lives on the dry side of the Santa Cruz Mountains of California, near where he grew up on what he calls "a nonprofit farm when bailing wire, gumption, and spit were the 'apps' of the day." A member of the Citizen Potawatomi Nation of Shawnee, Oklahoma, he has traveled North America extensively by motorcycle. Ed's work has been widely published in print and online journals and he is the author of two poetry collections: GLASSY AIR, Poems Kindled in the Long Shadow of a Lone Motorcycle and The Essential CAFÉ EDMOVIA, Cup of Joe Poetry for Cup of Joe Folks.
Jancan:
Delightful and entertaining
Posted 10/30/2023 11:08 PM
Wilda Morris:
Fun!
Posted 10/30/2023 06:36 PM
Lori Levy:
Insightful and funny.
Posted 10/30/2023 02:12 PM
Joan Luther:
Creative: ignoring my waning bucket of time !
Posted 10/30/2023 01:08 PM
Sharon Waller Knutson:
Who can resist a poem with a title like "Cheating Death with Carnival Red" and an opening line like: "When youre Seventy-Five, any given day you can die" and a Triumph motorcycle salesman with a positive attitude.
Posted 10/30/2023 01:00 PM
Denise:
Your red motor ride is flashy but life is short. Be careful...
Posted 10/30/2023 12:53 PM
paradea:
Love this poem and the spirit of it!!
Posted 10/30/2023 11:21 AM
Michael:
If that is your dream . . . live it out to its joyous end! Nicely done, Ed.
Posted 10/30/2023 09:28 AM
cork:
Walking slowly, I will reach the same end.
Posted 10/30/2023 09:23 AM
David:
A fun poem with a serious undertone. Love the title.
Posted 10/30/2023 09:00 AM