It will be Summer—eventually.
Ladies—with parasols—
Sauntering Gentlemen—with Canes— And little Girls—with Dolls—

Will tint the pallid landscape—
As 'twere a bright Boquet—
Tho drifted deep, in Parian—
The Village lies—today—

The Lilacs—bending many a year—
Will sway with purple load—
The Bees—will not despise the tune—
Their Forefathers—have hummed—

The Wild Rose—redden in the Bog—
The Aster—on the Hill
Her everlasting fashion—set—
And Covenant Gentians—frill—

Till Summer folds her miracle—
As Women—do—their Gown—
Or Priests—adjust the Symbols—
When Sacrament—is done—


This poem is in the public domain.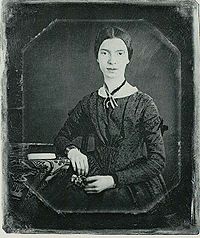 Emily Dickinson (1830 – 1886) is considered a major American poet, though she was not accorded this honor until well after her death, when her younger sister discovered and began to share the enormous body of work that Emily left behind. A recluse who almost always wore white, Emily was born to a prominent Massachusetts family and spent the bulk of her life inside her home in Amherst. Only seven of her poems were published during her lifetime, and virtually none were published as originally written until the mid 1950s. (Emily's odd punctuation, capitalization, and formatting did not meet with standard publishing "approval" for earlier editions.) There is a whimsical nature to many of her poems, although the subject of death was the most frequent recurring theme.
There are no comments for this poem yet.