The first grade boy in his new blue glasses
stands in a bank of other children,
cardboard snowflakes hung on strings
around their necks,
reciting a poem about snow.
Outside the libraryís picture windows
the fat flakes fall, real and cold.
The storm builds; soft high drifts over the roads,
bare black trees outlined in creamy emphasis.
The trees are transformed into a flock of zebras!
And on the freezing metal bars of the jungle gym
where sweat-slick kidsí palms
slipped and swung, only a few months ago,
pure crusts accrue. The poem goes on falling,
quietly, rhythmically,
"snow," and "hollow," and "wild winds blow,"
even though the black letters
have lifted off the white page
and flown, like a swoop of ravens,
into the blizzardís blank mouth.
The boy remembers his part,
while in the audience his mother watches
her breath made flesh,
made word,
its meaning multiplying as it lands
so softly on the surface of the known world.


This poem first appeared in Kalliope.
Used here with the authorís permission.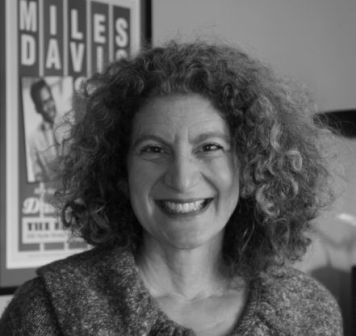 Alison Luterman lives with her husband and five feral cats in the San Francisco Bay Area, where she teaches poetry to schoolchildren and essay writing to grown-ups. She also performs in an improvisational dance theatre troupe and sometimes writes plays, as well. Alison has worked at a variety of jobs in her life, including HIV test counselor, free-lance journalist, drama teacher, and massage therapist. She has a particular passion for the rights of neglected and impoverished children.Learn more about Alison at www.alisonluterman.net.
Joe Sottile:
"intro"--that is...I think that I need new glasses for proofreading...
Posted 02/21/2011 07:15 PM
Joe Sottile:
Lots of interesting images...I particularly like this line: "bare black trees outlined in creamy emphasis" Excellent into to the poem, Jayne!
Posted 02/21/2011 07:14 PM
wendy morton:
Let us never lose the imagination to see trees transformed into a flock of zebras; which is why we have poets to show us. Look, they say, look.
Posted 02/21/2011 10:30 AM
Linda Lee (Konichek):
Fresh images that stay in the mind, capture the moment, and stir our minds and senses! Thank you, Alison.
Posted 02/21/2011 10:15 AM
loisflmom:
I loved this poem (almost as much as I hate snow). Beautiful imagery-- trees transformed into zebras!! Wonderful!!
Posted 02/21/2011 10:05 AM
Jo:
I really liked the mother sees her breath made flesh, and like ems, the ravens. A poem of wonder. Thank you. A good beginning to the day.
Posted 02/21/2011 08:34 AM
ems:
at first I thought this would be another silly poem about kids at school, but no, in fact, there's much more to it- the mother sees her breath made flesh, the letters have flown like ravens outside, the words land on the world's surface. lovely.
Posted 02/21/2011 08:07 AM
Ginny C.:
Lovely poem. I especially like the last few lines.
Posted 02/21/2011 07:02 AM