Age is a quality of mind.
If you have left your dreams behind,
If hope is cold,
If you no longer look ahead,
If your ambitions' fires are dead --
Then you are old.

But if from life you take the best,
And if in life you keep the jest,
If love you hold;
No matter how the years go by,
No matter how the birthdays fly--
You are not old.

This poem is in the public domain.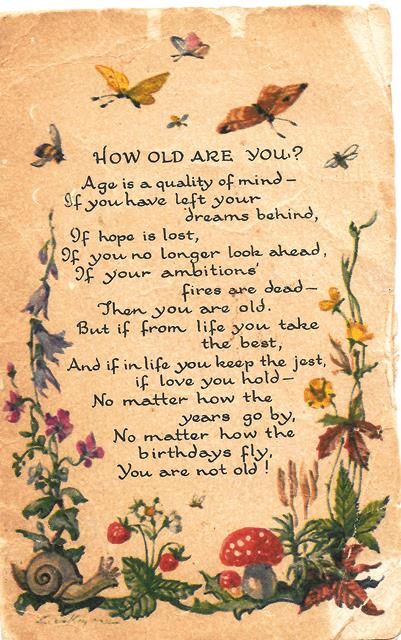 Card image courtesy of Maxine Casey Richmond
A Henry Samuel Fritsch was born in 1878 in Illinois who was a pastor and a poet. He died in 1933 and is buried in Jacksonville, Florida.
We do not know for certain that he is the author of this poem, but it is the only information we've been able to find. Many thanks to Maggie Ashcroft for her research.
Please contact us if you know anything about this poet.
janeyb:
Found this on an index card in my grandmother's handwriting. She was born in 1892! I am sure it is supposed to read "If hope is cold" because that rhymes with "If love you hold."
Posted 02/15/2021 04:52 PM
rgreer25:
Renee: What fun! I saved this card my Mom had received on one of her birthdays. Love it. Mom passed at 86, I am now 85. This poem has no age.
Posted 04/20/2018 11:53 AM
Judyann:
I have this poem on a Brownie copyright card from maybe the 1920's or 30's but no author is on the card...it also says If hope is lost, (not) If hope is cold.
Posted 09/14/2015 01:52 PM
Ripostess:
This was just found in my Grandmother's old cookbook from the 1920s. It was typed on a card that had pinochle scores on the back. She was an avid player.
Posted 03/28/2014 06:14 PM
Phyllis Beckman:
Let's make something up in lieu of solid history. I'll imagine that she is "pre-Confucian", that her feet were bound from birth, that H.S. Fritsch is her chosen pen name. And that this poem is "about" freedom! Huang Sung Felt? may have been her given name.
Posted 02/22/2011 06:24 AM